The Ugandan government has honored LGBTI right-to-health activist / human rights defender / journalist Kikonyogo Kivumbi "in recognition of his valuable services to Uganda."
Kivumbi, the executive director of Uganda Health and Science Press Association (Uhspa Uganda), is the Kampala-based correspondent for the Erasing 76 Crimes blog.
He said the award was for his "humble contribution" between 2014 and 2017 as a member of the board that helps to oversee Uganda's fight against AIDS, the Country Co-ordinating Mechanism (CCM) of the Global Fund. Kivumbi was elected to that board as a representative of the nation's key populations that are most at-risk of contracting AIDS, including sex workers and sexual minorities.
Award for the entire community
"[The award] is written in my name," Kivumbi said. "But this win for the entire LGBTI and sex workers community in Uganda."
"It is an award for all our allies who stood with us. They were mocked, ridiculed and called filthy and disgusting because they came out to openly demand access to health for all without discrimination."
Kivumbi worked hard to ensure that openly self-identifying LGBTI, sex workers and other key populations would have a voice on the Global Fund board. That goal is consistent with the Global Fund strategy of striving for inclusion and non-discrimination in all countrywide health program.
The work of the CCM board
The CCM board is hosted by the Uganda Aids Commission (UAC) under the office of the Ugandan president. It is responsible for coordinating submissions of proposals, processing requests for continued funding, selecting principal recipients as well as overseeing all Global Fund to fight Aids, Tuberculosis and Malaria (GFATM) grants.
The Uganda CCM is a national multi-stakeholder public-private partnership. The Uganda CCM comprises of members from the central government, civil society organizations (CSOs), the academic sector, the private sector, UN agencies and others.
After leaving the board, Kivumbi said, he has taken on the role of mentor for other right-to-health activists.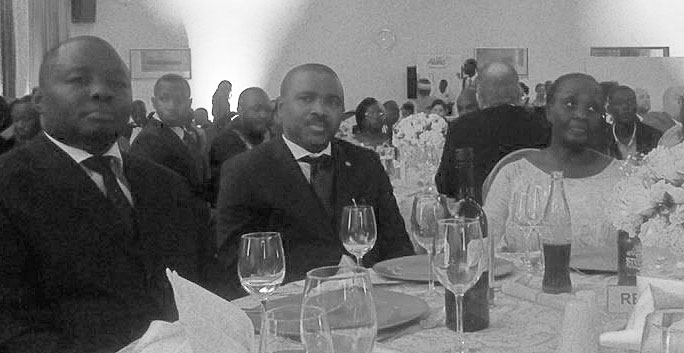 Specioza Kazibwe (right), former Ugandan vice president, and right-to-health activist Kikonyogo Kivumbi (left) at a dinner honoring people promoting improved access to health care for Ugandans. (Photo courtesy of Uhspa Uganda)