The Anglican Church of Nigeria last week expelled two priests whom it accused of homosexuality.
---
From the African Human Rights Media Network
---
By Mike Daemon
In Nigeria, LGBT people suffer various forms of discrimination at all levels within the society, even from within the Christian faith.
Many Nigerians believe the Bible condemns LGBTIQ folks, and thus views homosexuality as a sin that should not be tolerated, even though modern interpretation and a deeper research into what the Bible really says about homosexuality seem to prove otherwise.
Sadly, just like many other Christian organizations in the country, the Anglican Church of Nigeria, Diocese of Arochuwkwu/Ohafia in Abia State, still holds strongly to the opinion that homosexuality is a sin, as they recently dismissed two priests based on accusations that they are homosexuals.
To that effect, a letter dated 29 April 2019 was issued and signed on behalf of the church by Rev. Johnson C. Onuoha, who currently serves as the bishop of the diocese.
The letter stated that the two men, the Rev. Chukwuemeka Duru and the Rev. Chukwuzubelu Okonkwo both engaged in homosexual activities. An internal investigation conducted by the church proved them guilty, the letter stated, so they were dismissed from the church.
See the letter below.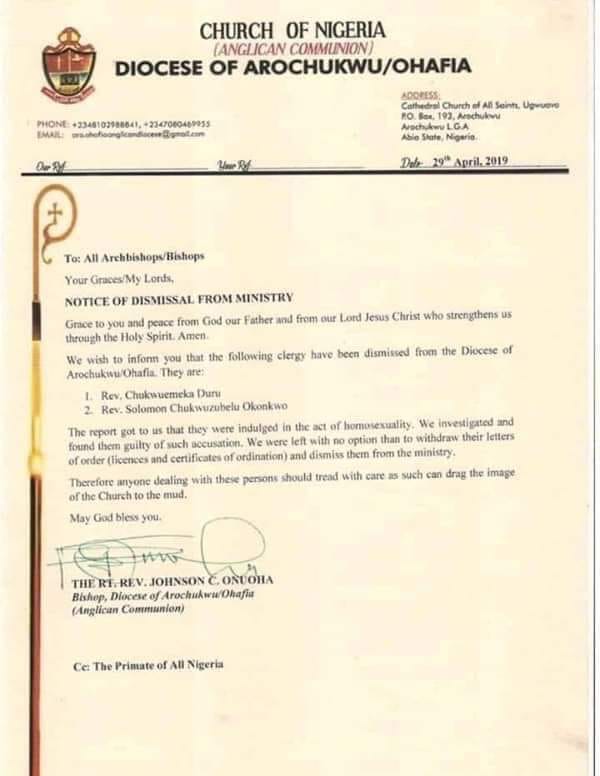 No further information was provided about the two men and their whereabouts.