Nollywood actress Tonto Dikeh has joined the list of Nigerian celebrities condemning anti-gay discrimination and violence.
---
From the African Human Rights Media Network
---
By Mike Daemon
Dikeh made the positive comment on Instagram in support of Jussie Smollet, an African-American Nollywood actor who was recently brutally attacked by two men, which many are now calling a hate crime.
She wrote:
"Sending you Love and Light.. No one shld suffer because they love differently.. I know what the Bible says about this,
AND I ALSO KNOW WHAT THAT SAME BIBLE SAYS ABOUT THE OTHER SINS WE (YOU AND I) COMMIT SHAMELESSLY.."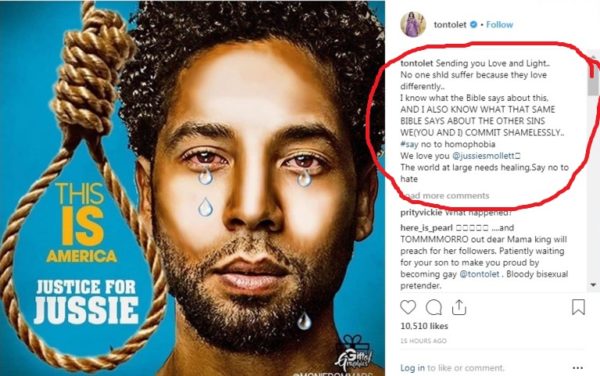 Homosexuality is illegal in Nigeria, and many people including celebrities (even those who are gay) hesitate to support LGBT people openly for fear of discrimination, being tagged gay or bashed by the general public.
But a few straight Nigerian celebrities have dared to speak up for the human rights of LGBT people, such as rapper M.I Abaga, writer Chiamamanda Adichie, and singer Kiss Daniel. 
Nigerian actor and model Alex Ekubo recently spoke up for LGBT people, but ran into criticism from the LGBT community. In a New Year's message, he wrote:
Learn to live & let live, if a person wants to be gay, let them gay in peace, personally i'm NOT, have NEVER been, & will NEVER be, lets allow pple to be free & comfortable with their sexual preference, stop the name calling & shaming
Members of the Nigerian LGBT community criticized that statement as insensitive, especially its suggestion that being gay is a choice, which of course isn't.
Mike Daemon adds:
We hope more celebrities, whether gay or not, will openly speak against the many human rights violations suffered by LGBT people in Nigeria.