Hundreds marched through the capital of Cameroon on July 13 to protest violence against human rights defenders. It was the fourth such march, held annually on the anniversary of the murder of journalist and LGBT rights activist Eric Ohena Lembembe.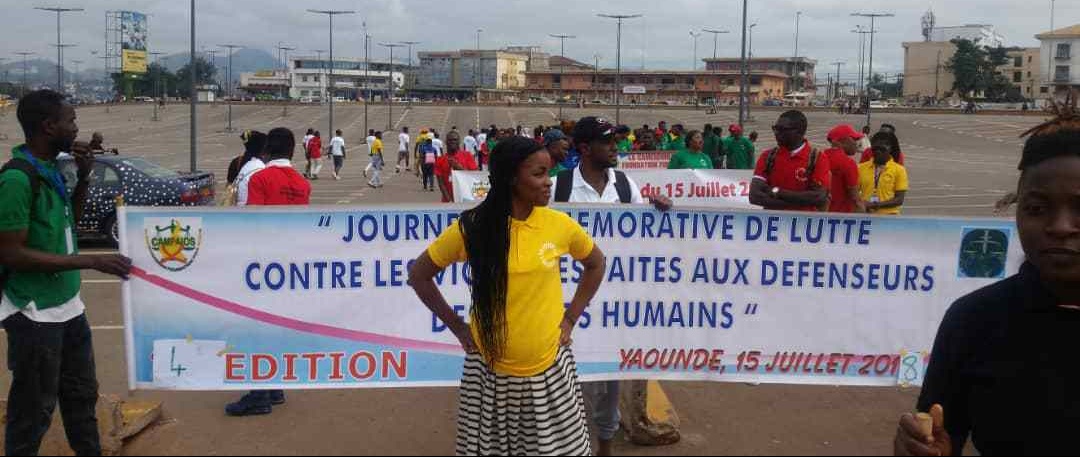 Marchers in Yaoundé, Cameroon, celebrate the Day of Remembrance of the Fight Against Violence Targeting Human Rights Defenders. (Photo courtesy of Steeves Winner)
By Steeves Winner
Following the assassination of human rights defender Eric Ohena Lembembe on July 15, 2013, in Yaoundé, human rights organizations teamed up to organize a protest march seeking safety for people advocating on behalf of sexual minorities, children, rape victims, foreigners, drug users, sex workers, rights of law enforcement personnel, , women and people living with HIV / AIDS.
Taking the lead was Lembembe's organization, Camfaids (the Cameroonian Foundation for AIDS), which still fights against AIDS and still seeks recognition of the human rights of LGBTI people.
This year's march and related events had the theme "The Human Rights Defender: Responsible for His Own Safety." The events, held from July 13 to 15, included panel discussions, a round-table discussion, a football match, a visit to Lembembe's grave and a thanksgiving mass.
The march was held July 13 on Avenue Foé. It was peaceful, with security provided by law enforcement personnel under the jurisdiction of the Mfoundi district police commander. More than 200 people took part, carrying banners and signs and wearing T-shirts with peaceful messages such as "The Human Rights Defender Fights for Peace."
A panel discussion focused on improving communication between government officials and civil society organizations, seeking a secure partnership. Panelists included a human rights defender, a commissioner, a police sub-commander, a deputy and a journalist.
On July 14, a round table at Camfaids headquarters brought together about 30 human rights defenders to discuss the theme: "How to protect the work of the Human Rights Defender in a legal vacuum." At the end of this meeting, participants decided to continue meeting to focus on peaceful action to deal with the problems that human rights defenders face in Cameroon.
The football match, held at the Mimbomam stadium, pitted a team of human rights defenders against a team of military firefighter (who won the match).
The final activities, on Sunday, July 15, were the visit to Lembembe's grave at the Etoudi cemetery and the thanksgiving mass.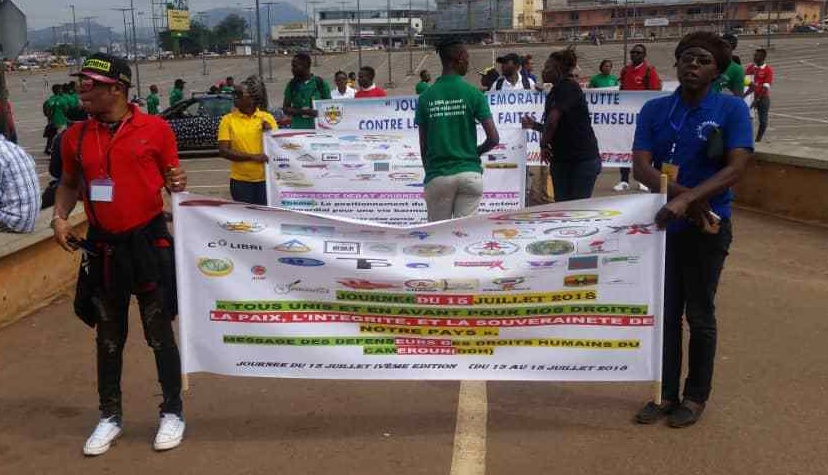 Marchers in Yaoundé, Cameroon, carry banners during the Day of Remembrance of the Fight Against Violence Targeting Human Rights Defenders. (Photo courtesy of Steeves Winner)
Steeves Winner, the author of this article, is an activist for LGBTI rights in Cameroon who writes under a pseudonym. Contact him at [email protected]