LGBTQ+ Nigerians benefit from the support provided by volunteer counselors via the Qtalk app, which is supported by this site and by the St. Paul's Foundation for International Reconciliation. (Twelfth in a series)
---
Get a free subscription: Keep informed and
support the African Human Rights Media Network
---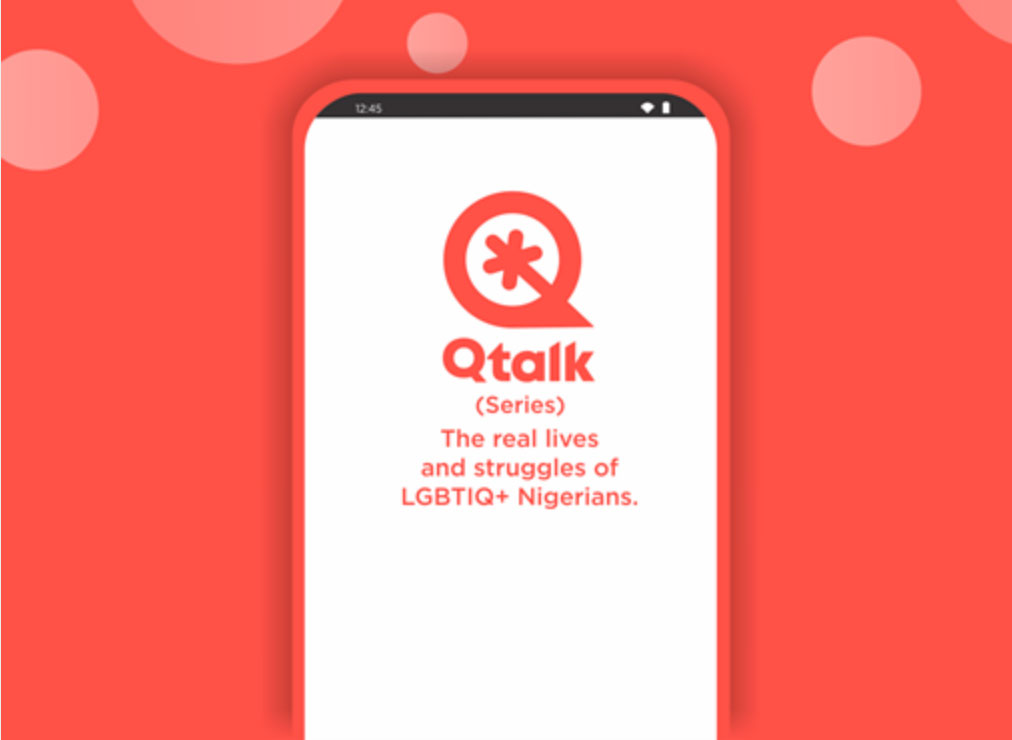 By Mike Daemon
Qtalk users' names have been changed in the following writeups, which were contributed by the counselors who provide advice to LGBTQ+ Nigerians via the free Qtalk app:
Gay man struggles to cope with the loss of his son
Jeff, a 30-year old Lagos-based gay man, is having a hard time following the death of his son. In his support request he wrote:
I feel like my heart is going to burst open. I have not been myself since my son died from night fever a few weeks ago. Can you help me deal with this whole pain that I feel in my chest?
In a response to Jeff's request, the counselor acknowledged that it was completely ok for him to grieve. The counselor also stated that dealing with the loss of child can have a devastating effect on a person's overall wellbeing and mental health.
During the session, the counselor encouraged him to let out all the emotions without holding anything back and to take things one step at a time. He was also encouraged to focus more on the happy and fond memories he had with his son. With the counselor's support, Jeff is coping well and has remained in therapy.
Bisexual man seeks ways to tell family about his sexual orientation
Timi, a bisexual man, is now in a committed relationship with his boyfriend and feels it's time to come out to his family, which has been putting pressure on him to marry a woman. In his support request, he wrote:
I am in a good place now and I am really happy with this man, but a part of me doesn't feel complete since I am still in the closet. I want to come out to my family, who have been on my case to get married to a woman. The problem now is, how do I tell them?
In a response to Timi's request, the counselor commended him for being true to himself, and for even thinking about coming out, that alone takes courage. The counselor also made him understand that coming out is something that should be given very serious thoughts and the approach differs depending largely on the people one wishes to come out to. In addition to this, the counselor also stated that there's no format to coming out, however, he stated that one's safety is something that should be strongly considered before deciding to come out to anyone.
Timi is currently still receiving support.
Trans woman assaulted in an open market, seeks justice
Evelyn, a 21-year old Enugu-based trans woman is seeking justice after she was humiliated and assaulted in an open market. In her support request, she wrote:
Is there any law in this country that can be used to get justice for someone like me? Because I can't just let what happened to me slide. I was assaulted and humiliated in an open market by area boys just because they felt I was too proud. Exposing me to further harm, now I can't go back home as the community youth leader is looking for me.
In response to Evelyn's request, the counselor who is a legal practitioner hinted that it was possible for her to get justice if she was OK with the idea. The counselor suggested that a good place to start will be to report the incident to the nearest police station and suggested that working with an LGBT-friendly human rights organization will also be a good idea. The counselor also suggested and encouraged her to stay away from home until she felt safe enough to return back.
Evelyn is now currently in a safe house where she'll be until she is able to clearly figure out the next steps.
Gay man not offered employment because of his sexual orientation
Victor, a 26-year old Nigerian gay man, said he lost an opportunity to get a job because of his sexual orientation. In his support request, he wrote:
I am just tired of everything. A company I applied to work with after an interview, went online to check my profile and saw some of the pro-gay contents I shared. They concluded I was gay and that their director is a pastor and won't let me work with them. So therefore they won't be offering me the job opportunity. This they sent to me in a text message.
In a response to Victor's support request, the counselor stated that it was completely normal for him to feel disappointed and frustrated as a result of his experience. The counselor went ahead to suggest a few things, such as exercise, expectation management, distraction with hobbies and other activities, etc.
So far, Victor seems to be feeling better but still receiving support.
Bisexual man says ex-girlfriend is blackmailing him
Elijah, a 28-year old Nigerian bisexual man currently residing in Lagos, is living in fear as his ex-girlfriend is threatening to expose him if he doesn't get back to her. In his support request, he wrote:
How can I manage this situation? I dated this girl for over nine months before we broke up due to the fact that she was very disrespectful. A few months after, I met this guy and we started dating. I don't know how this girl managed to find out about my current relationship, and since then, she's been sending me threatening messages saying that she'll tell everyone close to me that I am gay including my boss. Please, how I do deal with this problem?
In a response to Elijah's request, the counselor stated clearly that he was being blackmailed. The counselor suggested that the best way to deal with such a complex issue was to get in touch with an LGBT-friendly organization for further advice and possible action.
Upon Elijah's request, he was referred to a Lagos-based LGBT organization that is now working with him to see how best to deal with the issue.