LGBTQ+ Nigerians benefit from the support provided by volunteer counselors via the Qtalk app, which is supported by this site and by the St. Paul's Foundation for International Reconciliation. (Sixteenth in a series)
---
Get a free subscription: Keep informed and
support the African Human Rights Media Network
---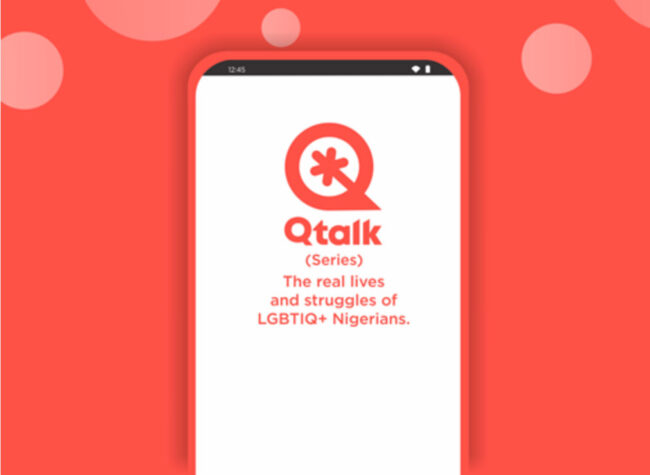 By Mike Daemon
Users' names have been changed in the following writeups, which were contributed by the counselors who provide advice to LGBTQ+ Nigerians via the free Qtalk app:
Gay man struggles with feelings towards his straight friend
Anderson, a 20-year old Nigerian gay man, is struggling to hide his romantic affection towards his heterosexual friend. In his support request he wrote:
Tim is a good friend and I don't want to spoil anything by letting him know that I am in love with him. The problem is that he is straight. Should I tell him or continue to keep it to myself? I am truly dying on the inside.
In a response to Anderson's support request, the Qtalk counselor told him that it was completely normal to feel attracted to someone regardless of their sexual orientation and also that there was nothing wrong with letting people know how we feel about them. However, the counselor advised that this should be done with caution and consideration for safety given how people treat LGBTIQ+ people in the country.
The counselor said it was important to do this respectfully, bearing in mind that his friend may not feel the same way about him. It may seem easy to do this since they were already friends, but the counselor also added that it was important to make it clear to his friend that nothing will change if he isn't interested in him in the same way. His friend's reaction cannot be predicted and so, therefore, he should just keep an open mind.
Gay man needs help recovering money he loaned to his lover
Ebuka, a 26-year old Nigerian gay man, is having a hard time collecting back the money he loaned to his violent lover. In his support request, he wrote:
It's been over six months now since I gave my boyfriend N600,000 naira to support his new business. He has refused to pay me back my money. Please, how can I collect it from him? This is not the first time that he has refused to pay back money that I have lent to him before. The last time he punched me very hard in the face, called me names, and told me that I was heartless.
In a response to Ebuka's support request, the counselor stated that it was very clear that his boyfriend is abusive. Being in a relationship with an abusive partner can be very hard and can take a toll on our mental health. The counselor told Ebuka that it was important he safeguards his mental health first and then seeks ways to recover his money from his boyfriend. The counselor suggested approaching him with someone he respected. However, it can be particularly challenging and almost impossible to get back the money if there's no written agreement to show that his boyfriend took money from him to pay back later as the boyfriend could deny receiving the loan.
The counselor suggested that he involves a third party, perhaps a police officer or a lawyer for further advice.
Bisexual man who survived rape seeks support
Wisdom, a 25-year old Nigerian bisexual man, is struggling with his mental health since he was raped multiple times by a group of anti-gay rapists who abducted him for days. In his support request he wrote:
I can't seem to close my eyes since the whole thing. I can't get over the fact that I was raped so many times by a group of six men. They took turns on me and kept me in an empty room for three days. One of them invited me after a week of chatting with him. I traveled to go and see him not knowing that it was a setup. My god, why? Please, I need help.
In a response to his support request, the counselor expressed his sympathy and made clear that what happened to him was nothing but criminal and under normal circumstances, the perpetrators would be arrested and made to face the law. It might be difficult to take legal actions due to the nature of the issue, but it is still with the help of a lawyer who understands SOGI issues.
The counselor also recommended that it would be wise and necessary if he gets tested for sexually transmitted infections and especially HIV after three months to rule out concerns of any possible infection.
During the session, the counselor reminded him that what happened wasn't his fault and assured him that he was strong enough to deal with the trauma.
Wisdom has remained in therapy and has shown some level of improvement. The counselor has encouraged him to join a queer support group for rape survivors.
Lesbian wants to get a job but her partner doesn't want her to work
Chioma, a Nigerian lesbian, says her relationship may be coming to an end as her lover is not allowing her to secure a job. In her support request, she wrote:
I love this woman. We have been together for three years and she has done her best to support me through a lot. However, I am starting to feel very uncomfortable, useless, and completely lazy just being at home and doing nothing while she works. We spoke about it, but she doesn't want me to work. In fact, she has refused to engage in the conversation at all and I swear if things continue to remain the same, I'll leave the relationship.
In a response to Chioma's support request, the counselor stated that it was really important to engage her partner in a conversation so as to ascertain what her real concerns and perhaps fears are about why she did not want her to get a job.
Communication in any relationship is very important. The counselor encouraged Chioma to stress this to her partner as well as letting her know how her refusal to listen to her was frustrating her and how it could possibly lead to a breakup. Both partners deserve to listen to each other as everyone's feelings and concerns are valid in a healthy relationship.
Therapy is still ongoing and Chioma has promised to keep the counselor updated.
Gay man fears his new job may end his relationship
Izuchukwu, a 22-year old Nigerian gay man, is worried that his new job in a new city might cause the end of his one-year relationship with his boyfriend.
In a support request, he wrote:
I am so happy at the same time very sad. I just got this new job with good pay, but the problem is that ill have to relocate to a new city, leaving my boyfriend behind. He has made it clear to me that he isn't interested in a distance relationship and wants us to stay together. The issue is that I feel I deserve this new job and I believe it will be a leap in my career given that I have felt stuck for so many years. I really would love some advice.
In a response to Izuchukwu's request, the counselor stated that relationships come with sacrifices and difficult choices. Pursuing personal interests when in a relationship might seem selfish and make our partner feel like we aren't taking their feelings into consideration and in turn make them feel less important and not valued, especially in his kind of situation.
The counselor stated that it was entirely up to him to make a decision about what was truly important to him and what truly make him happy so he doesn't regret and feel miserable in the end.